Written by Allyson Lister (FAIRsharing) and Joy Davidson (DCC) and jointly published at both projects. Please also see the DCC's blog post.
FAIRsharing and the FAIRsFAIR are proud to announce a collaboration to align the following policy metadata resources:
FAIRsharing policy record metadata,
The FAIRsFAIR FAIR Data Policy Checklist and related structured policy description template, and
RDA: Developing a Research Data Policy Framework for All Journals and Publishers (referred hereafter as "RDA Journal Policy Features").
As a result of this collaboration, all checklist fields and RDA-endorsed policy features within the scope of FAIRsharing are available within FAIRsharing policy records. This creates a FAIR data policy "workflow" from a) FAIR Data Policy Checklist to b) deposition of the policy and assignment of a DOI, through to c) submission of that policy into FAIRsharing. This process helps create FAIR-aligned data policies, as FAIR metadata will be accessible to both humans (through policy publication and the creation of the FAIRsharing record) and machines (through the FAIRsharing API). The result will be data policies that are more findable, accessible and re-usable.
FAIR data policy checklist
FAIRsFAIR developed a structured policy description template to enable policy makers create and share structured versions of their data policies. This checklist helps policymakers to assess whether elements of their data policies are FAIR-enabling as well as providing recommendations on what should be addressed in policies. In parallel, many stakeholders are actively monitoring the policy landscape and FAIRsFAIR's structured policy description template and guidance aims to improve the comparability of policy content in a machine-readable way. The checklist has three sections:
Context of the policy such as the title and the year the policy came into effect,
Content of the policy focusing on the suggested and required aspects of RDM and data sharing, and
Support for adhering with the policy and compliance monitoring
RDA Journal Policy Features
The RDA Data Policy Standardisation and Implementation Interest Group has defined and described 14 features of journal research data policies. These 14 RDA Journal Policy Features have been arranged into a set of six standard policy types or tiers, which can be adopted by journals and publishers to promote data sharing in a way that encourages good practice and is appropriate for their audience's perceived needs. Policy features include coverage of topics such as data citation, data repositories, data availability statements, data standards and formats, and peer review of research data. These policy features and types have been created by reviewing the policies of multiple scholarly publishers, which collectively publish more than 10,000 journals, and through discussions and consensus building with multiple stakeholders in research data policy via the RDA.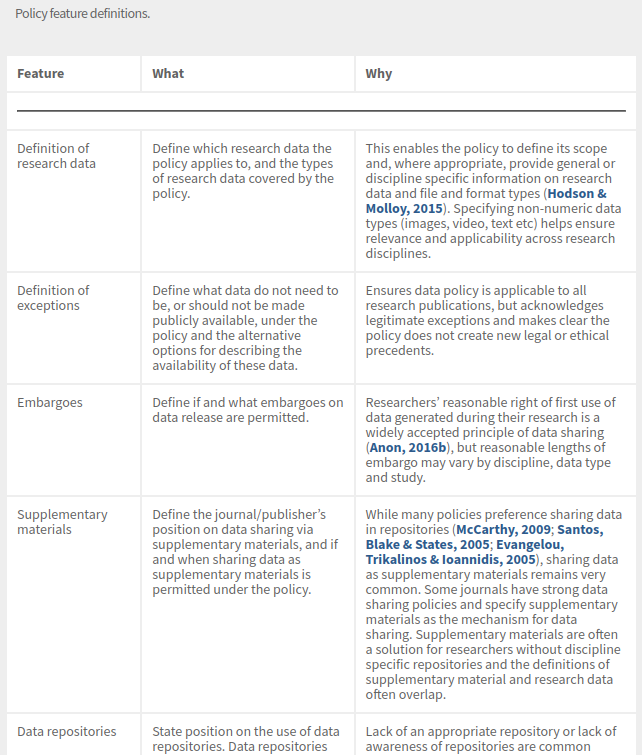 The RDA Journal Policy Features document is intended primarily for journal and journal publisher policies, however it remains useful for the wider community. It is primarily related to the content of a policy rather than also its scope and context. With the backing of the RDA and the wider research data community that created it, it is a vital resource for FAIRsharing and its policy metadata.
FAIRsharing Data Policy Records
FAIRsharing's data policy registry stores descriptions of data policies from a number of different sources including journal publishers, institutions and funders, as outlined in our documentation. The metadata fields we allow in each of our registries is carefully chosen from the requirements of the communities we serve, and policies are no exception. By aligning with both the recent RDA and FAIRsFAIR efforts, FAIRsharing can provide metadata to our communities that are most relevant to them. FAIRsharing has recently updated our policy metadata to include several of these recommended fields.
FAIR Data Policy Checklist: Most of the context section of the checklist was already provided within FAIRsharing before the alignment work began, as well as some of the items from the content and scope sections. A majority of the other checklist fields (those that are within the remit of FAIRsharing) have been added as a result of this collaboration.
12 of the 14 research data policy features from the RDA Journal Policy Features have aligned with the updated FAIRsharing data model, allowing much greater convergence with this RDA-supported output.
For further details of the mapping among these three resources, please see this spreadsheet.
Our Community Curators are actively curating these new fields, and we encourage our existing policy record maintainers to visit their records with us and ensure that they take full advantage of these new fields. We have already had some great feedback from our curators about the usefulness of the new fields.
I found that adding [the new policy] metadata was extremely helpful for me to understand concretely what should go in such a Policy, ideally. And found out [a] particular policy is lacking many of these important elements … Which I can now bring to their attention!

Gabriel Pelletier, FAIRsharing Community Curator for Neuroscience
You can see this new metadata in a few of our policy records already, for example with the Genome Canada, Wellcome Open Research, and The Royal Society records.